Jerry Stiller, Alec Baldwin, Paul Muldoon, Paul Dooley, Bob Odenkirk, Charles Busch, T. Ryder Smith, Aaron Beall, Bob Dishy,Amy Stiller, Judy Graubart, Jaason Simmons, John O'Callaghan, Barbara Vann, Jim Fletcher, Zeroboy, Janet Coleman, David Dozer, Tara Bahna-James, James Kennedy, George Heslin, Mac Barrett, Merideth Finn, Mara McEwin, Emily Mitchell, Nicole Weisner, Marcus Goldhaber, Martha Guenther, Barika Edwards, Rosie Goldensohn and Caraid O'Brien as Molly Bloom perform on Radio Bloomsday Wednesday, June 16th, 2010 on WBAI 99.5 FM and
wbai.org
.
Artists perform excerpts from James Joyce's Ulysses for Radio Bloomsday on
Wednesday June 16th from 7pm to 2am on WBAI 99.5FM in New York City and wbai.org. Radio Bloomsday continues the 32-year WBAI tradition of broadcasting marathon performances of James Joyce's Ulysses every Bloomsday as New York's leading artists gather in the W
BAI studio on Wall Street to interpret this classic of modern literature. We recorded actors in Los Angeles and New York for the broadcast with over two dozen artists performing live from WBAI during our the broadcast.


The broadcas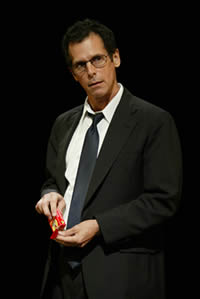 t opens at 7pm with an invocation to the goddess of Irish poetry as Barbara Vann performs the ninth century Gaelic
poem, The Hag of Beare.The first hour
focusing on the first four chapters of Ulysses. T. Ryder Smith (left) introduces us to Buck Mulligan and Stephen Dedalus in the Martello Tower. Pulitzer Prize
winning poet Paul Muldo
on performs Stephen Dedalus' inner thoughts as he wrestles with his mind while walking on the beach in the complete Proteus episode. Jerry Stiller reads Bloom's thoughts in Calypso as he makes Molly's breakfast, sits on the toilet and dreams of artistic greatness and reads a letter from his daughter Milly, played
by Amy Stiller.



The eight o'
clock hour is a
mini marathon of Bloom's inner thoughts. James Kennedy as Bloom walking around Dublin, Zeroboy as Bloom at
t
he cemetery, Bob Odenkirk (left) as Bloom imagining childbirth, Jim Fletcher as Bloom mellow on wine, Paul
Dooley as Bloom contemplating lunch and T Ryder Smith as Bloom at the end of the Siren's episode.



At 9pm, we debut o
ur new writers segment as poets Merideth Finn and Mac Barrett read from their new work. We
return to Ulysses to explore the dozens of literary styles sampled by Joyc
e throughout the novel (and throughout our broadcast) from Dickensian prose to penny dreadful r
omances, from Celtic legends to school primers. Alec Baldwin (left) perfo
rms in the style of a Celtic legend, Judy Graubart is a psychic conducting a séance, Bob Dishy performs in the style of sentimental gentlemen's prose. Janet Coleman and David Dozer perform the verbal overture to the Sirens episode. Mara McEwin and Jim Fletcher tackle the medieval prose of Oxen of the Sun.
Tara Bahna James performs an original tune compose
d by
Christian Imboden based on the Irish revolutionary song The Night Before Larry was
Stretched.
Starting at 10pm, we enter Ulysses in Nighttown as Stephen and Bloom stumble through Dublin's redlight district in the Circe episode which is written in the form of a play and captures the similari
ties between artistic creation and drunken revelry. Playwright and female impersonator Charles Busch (left) plays the whore mistress Madame Bella Cohen, T Ryder Smith is the narrator and Aaron Beall is Bloom.



Around 11pm, we turn our sites
to Molly Bloom, the singer, the woman, the artist in bed. This three hour segment begins with real life couple John O'Callaghan (
Stargate Atlantis, at left) and Jaason Simmons (Baywatch, at left) reciting Lord Byron's poetry, which Bloom used to woo Molly when they were courting. Alec Baldwin then reads James Joyce's love letters to his wife Nora, the inspiration for Molly Bloom. As always, the evening ends with the complete Molly Bloom monologue, performed by Galway native Caraid O'Brien, as she thinks about her lovers, her husband, her children and her stalled artistic career.

Radio Bloomsday is directed by Caraid O'Brien; and produced by Larry
Josephson, Peabody-Award-Winner and President of The Radio Foundation. The Artistic Director is Janet Coleman, host and producer of Cat Radio Cafe and former WBAI Arts Director.